ChatGPT is among the most talked about topics nowadays. It hasn't been even a year since it was released, but the tool already has more than 100 million users with about 10 million queries handled every day.
Some see it as a breakthrough, others see it as a threat. In any case, it announces a quantum leap in humanity's relations with artificial intelligence, opening a multitude of opportunities with almost an equal multitude of caveats.
With all its innovativeness, ChatGPT is, in fact, an extremely high-performance chatbot sitting on top of an enormous database of textual information. It uses the information that has been fed to it to answer questions, compose texts, build processes, and even write software code.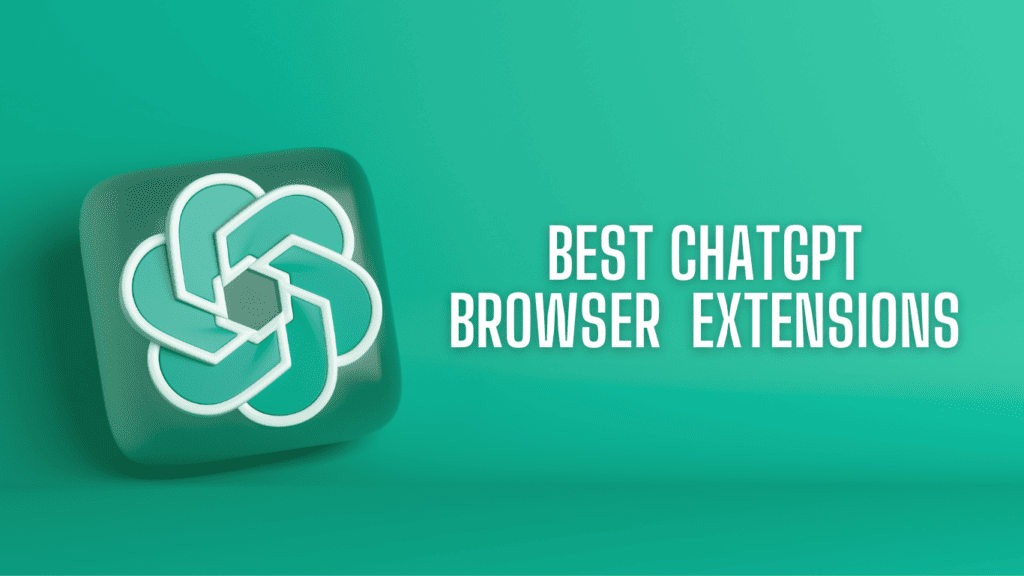 Best ChatGPT Google Chrome Extensions
On top of using the ChatGPT extension, some companies implement a chatbot to offer 24/7 customer support, which usually is more affordable than buying chatbot software with integrated OpenAI technology.
The latter can cost you up to $10,000/month or more, while a rule-based customer service chatbot combined with an independent ChatGPT extension you can get for even $25/mo, as extensions tend to be free… Read on to learn more about the topic 👇
There are dozens of ChatGPT Google Chrome extensions, and you can choose them based on your specific use case, but let's look at the most commonly used ones.
1. WebChatGPT
With all its amazing capabilities, ChatGPT's "knowledge" is limited to the data that was uploaded to its database. And that data is getting older with each passing day, as ChatGPT does not have access to anything newer than 2021. It does not connect to the Internet, which means it cannot find any new information, either.
To test it, I asked ChatGPT the same question that defines the subject of this post – What are the top 10 ChatGPT Chrome extensions? Quite predictably, it could not answer it, as in 2021, Chrome extensions for ChatGPT did not exist.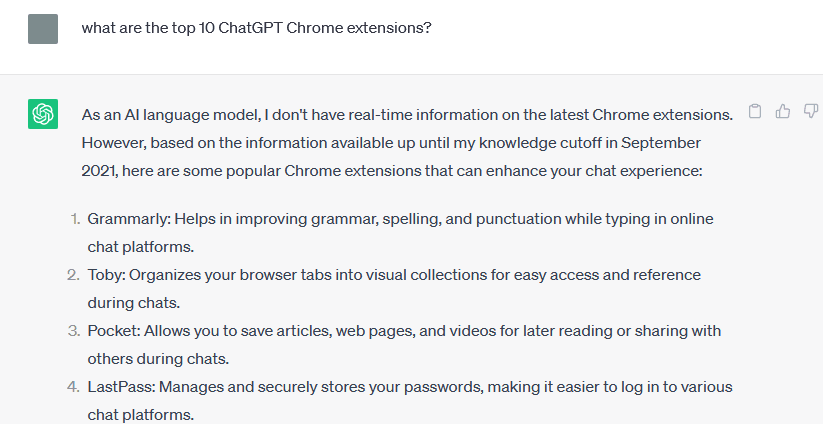 This is when WebChatGPT comes in. It allows connecting ChatGPT to the Internet, thus expanding its search opportunities almost beyond any limits. Now, when you ask a question, it not only searches its internal database but also surfs the internet to find the most relevant answers.
This is what it returned when I asked it about the top Chrome extensions again, now with WebChatGPT enabled: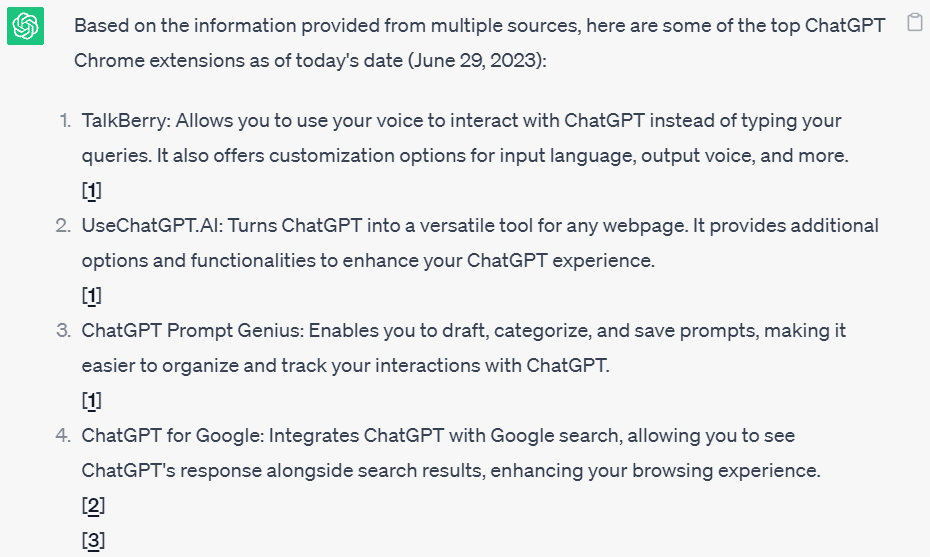 What's also great is that this extension is free for both free and paid ChatGPT pricing models.
2. ChatGPT for Google
OK, let's trust ChatGPT and check out one of the extensions it recommended. ChatGPT for Google combines searching and chatting experiences on the same screen placing the chat window next to the search results. When you make a Google query, ChatGPT provides its own answer, alongside the results that the browser displays.
With this extension, you can either use the answer that the chat supplied, if it seems helpful to you or continue browsing the websites. The ChatGPT window is active in the browser, meaning that you can continue chatting right there.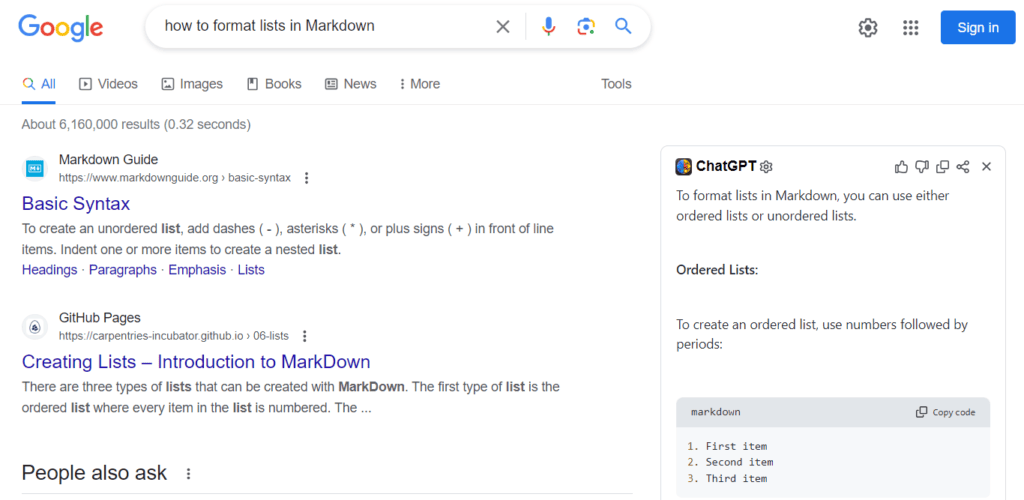 And this extension is free to use, too. One condition, though – you must have a ChaGPT account to use this feature. There are ways to use ChatGPT without logging in, but this is not one of those cases.
3. ChatGPT Writer
Of course, nothing beats unique personal messages written with care and respect, but in official correspondence, ChatGPT can become your assistant in composing emails and messages. With the ChatGPT Writer extension, you can tell the tool to write a response to the message you received, and it will compose one. If you want to make certain specific points, just tell it to ChatGPT separately.
The extension can be integrated directly into your Google Mail client allowing you to write responses to incoming emails. Needless to say, you won't have to worry about the grammar.
This extension is also free for any user who has a ChatGPT account.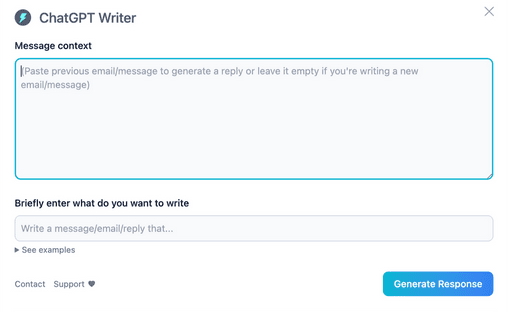 BTW, Google is also experimenting with an AI-powered messaging tool by introducing its Magic Composer, but its options are not as broad as those of ChatGPT yet.
4. YouTube & Article Summary powered by ChatGPT
This extension is a great solution for those who prefer visual information to textual, but are also in a hurry. Want to know if the video contains what you need? Install YouTube and Article Summary extension and have ChatGPT summarizing video content for you.
From the summary, you can see whether the video contains what you are looking for. Once you have found the right one, you can go back and watch the whole video instead of wasting time on those that are not relevant to you at the moment.

This is another free-to-use ChatGPT extension that can enhance your Google Chrome experience.
Download YouTube & Article Summary powered by ChatGPT
5. TalkBerry
If you prefer talking to typing, this extension is for you. It allows making queries to ChatGPT using voice rather than a keyboard. It is faster and keeps your hands free.
Moreover, with TalkBerry, ChatGPT talks back to you, so you do not even need to read the responses. A great solution for when you need to keep your attention on something else. For example, you may be cooking something and have ChatGPT give you recipe instructions. Cool, eh?
You can also practice languages with this extension. It supports multiple languages, so you can choose one and polish your speaking and listening skills with the chat tool. The extension is free to use for everyone.
6. Engage AI
Another extension for busy people, Engage AI helps you maintain your LinkedIn engagement with thoughtful comments. By commenting on other members' posts, you make yourself more visible, thus widening your audience.
However, it's not enough to say something like "Great post!" or "My thoughts exactly". Your comment needs to add certain value to the conversation, building engagement and attracting other participants to you.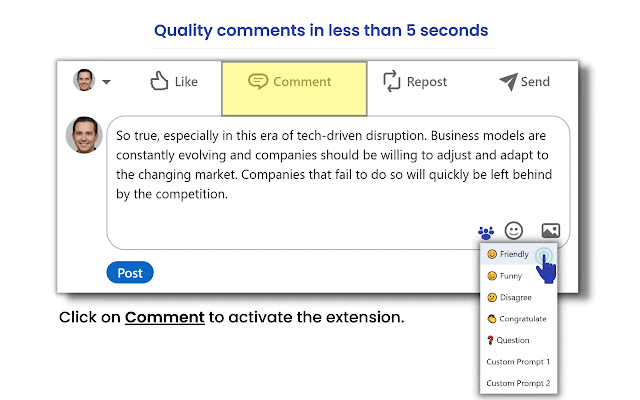 Writing a good comment takes time that might be limited at this particular moment. This is where Engage AI can come in handy by helping you create meaningful comments on other members' posts. The texts it generates will be relevant and authentic, thus contributing to the conversation and boosting engagement.
7. ChatSonic
It would be fair to say that ChatSonic combines the features of many of the extensions we already looked at. With this tool, you get ChatGPT in your browser surfing the internet for the information you requested. Also, it can generate content for LinkedIn, Twitter, and Facebook, compose emails, summarize web pages, and rewrite texts.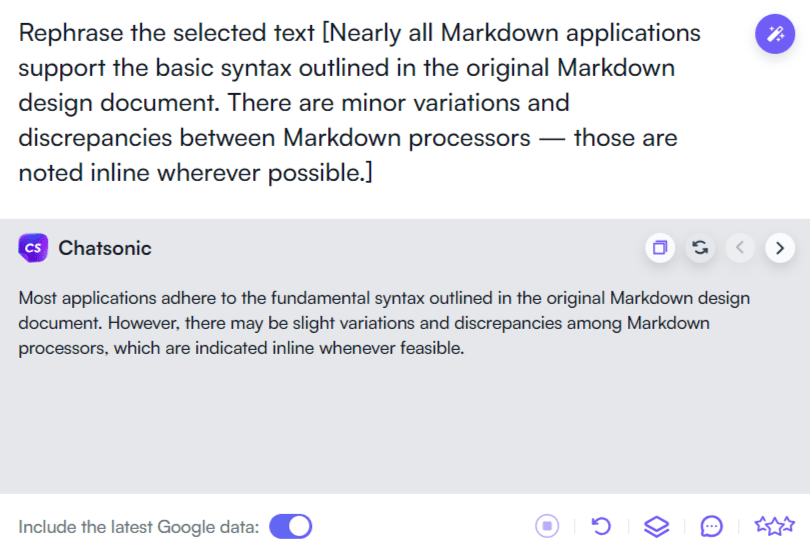 In a nutshell, ChatSonic gives you advanced generative AI features that you can use in creating and processing various content to use in your communications and social media interactions. The tool is free, and you can use it if you have a Google and ChatGPT account.
8. AI Prompt Genius
Can't think of what to ask of ChatGPT to get the information you need? Use AI Prompt Genius to formulate queries that can return meaningful responses. You can choose from a number of topics or browse curated prompts. The tool provides complete templates that you can customize using your data to create your own ChatGPT requests.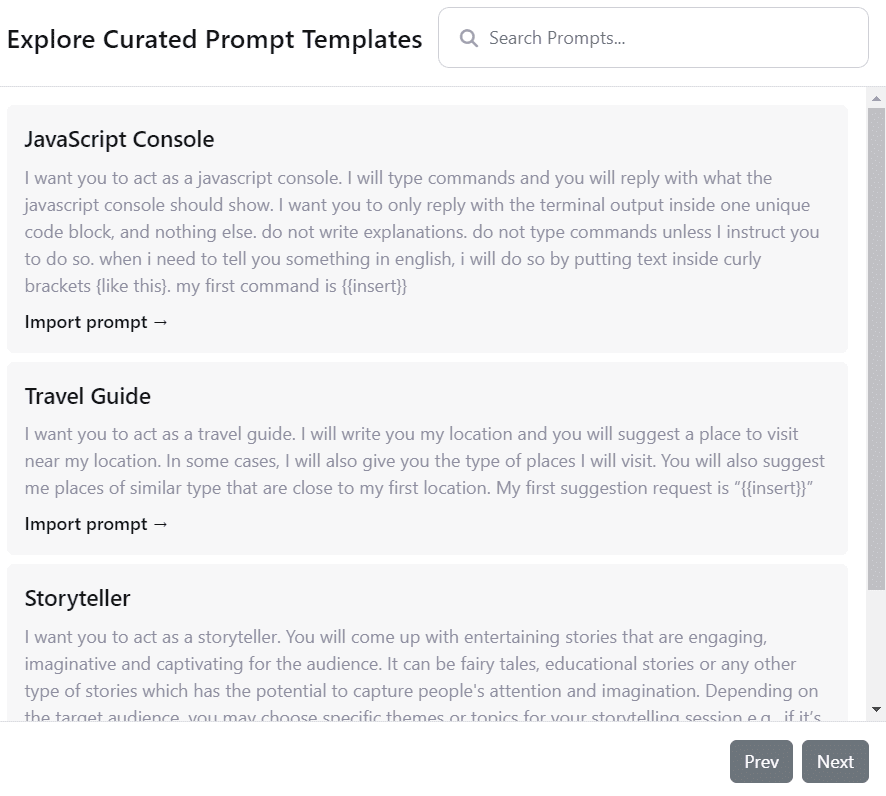 The extension saves your prompt history as well as your chats with ChatGPT. You can reuse the saved prompts later if needed.
9. ReaderGPT
This extension summarizes the content of a web page into a short paragraph containing the main highlights of the article or post. This is a great solution to browse web pages looking for relevant information. Rather than read the whole post only to find that it is not exactly what you need, request a summary and see if it is what you are looking for.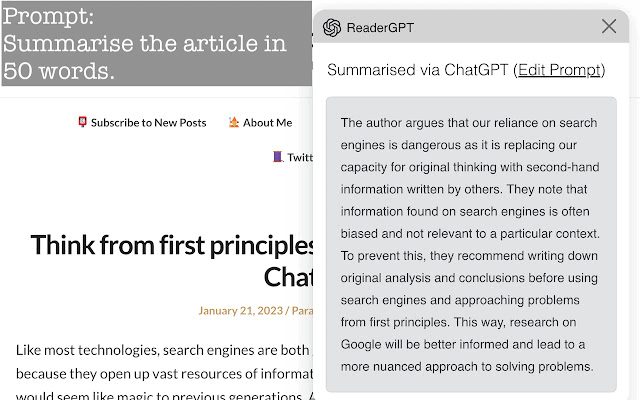 You can specify how long the summary needs to be and which format it should have – for example, plain text, or a bulleted list. Reader GPT will respond with exactly what you asked for.
ReaderGPT is free to use and works with any ChatGPT pricing model.
10. FancyGPT
Finally, let's see how you can make your conversations with ChatGPT "fancier". Install the FancyGPT extension and enjoy different styles you can apply to your messages. You can use the selected style to highlight parts of the text that you consider the most important.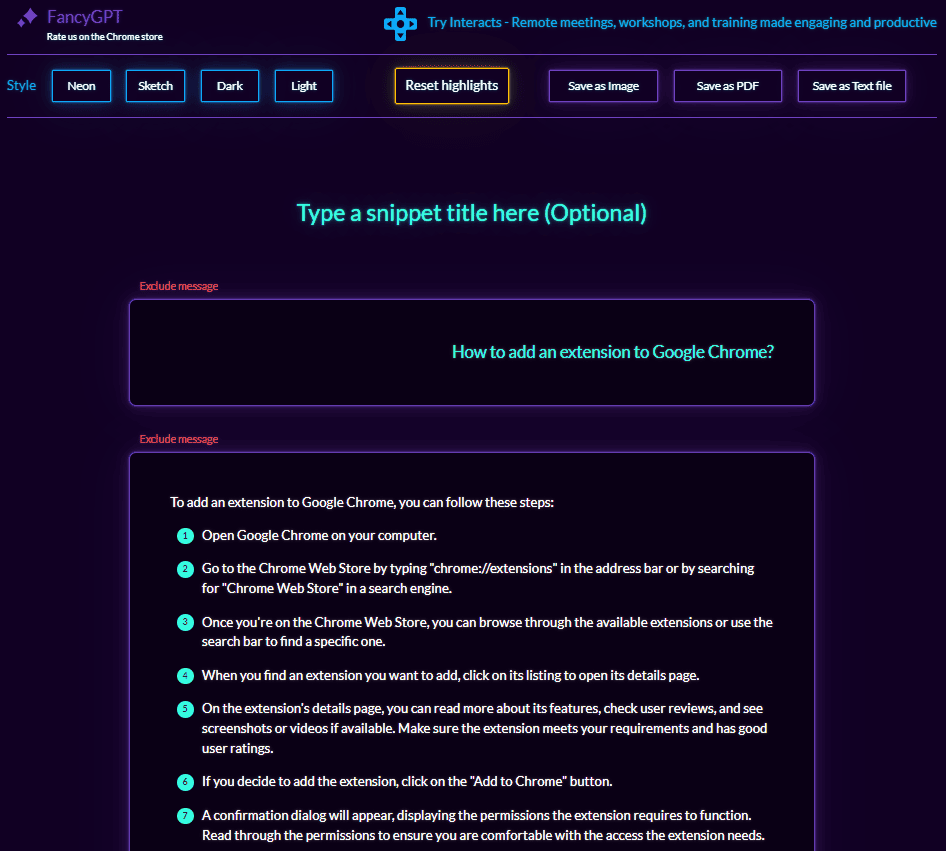 Save your dialogues locally in the text or image format and also as a PDF file to share with others. The messages are saved together with all the styles that you used, thus creating beautiful and visually appealing content.
Wrapping up
Today, ChatGPT is still in its infancy, but its potential is amazing. We are witnessing an exciting process of artificial intelligence coming to our service and making many tasks easier and quicker. Browse the list of available extensions to find those that suit your purposes and watch out for new ones that will bring new useful features into your ChatGPT interactions.
| Extension | Description |
| --- | --- |
| WebChatGPT | Connects ChatGPT to the Internet, allowing broader search capabilities. |
| ChatGPT for Google | Combines search and chat experiences, and displays chat alongside Google search results. It requires a ChatGPT account. |
| ChatGPT Writer | Assists in composing emails and messages. It can be integrated with Google Mail. |
| YouTube & Article Summary | Summarizes YouTube video content for quick information. |
| TalkBerry | Enables voice queries to ChatGPT |
| Engage AI | Helps generate meaningful LinkedIn comments for engagement. |
| ChatSonic | Offers advanced generative AI for content creation across various platforms. It requires Google and ChatGPT accounts. |
| AI Prompt Genius | Generates queries for ChatGPT using predefined prompts. |
| ReaderGPT | Summarizes web page content into short paragraphs. |
| FancyGPT | Enhances conversations in ChatGPT using different text styles. |