We used to have a home office long back and now we have our own office space. Having a separate office makes you more productive and creative. Though working from home gives you more freedom, but at some point in time, one should move the own office when their team starts growing.
If you don't know, along with Geek Dashboard, we are also into Android and web development for our clients. Notification History Log and WP Droid are few of our products we are proud of. Our official Geek Dashboard Android app is built using our own WP Droid plugin.
Managing all these works and client projects are impossible to do from home and we decided to set up our office. Here are the gadgets and tools we use regularly in our office to do our awesome works.
Our Productive Office Environment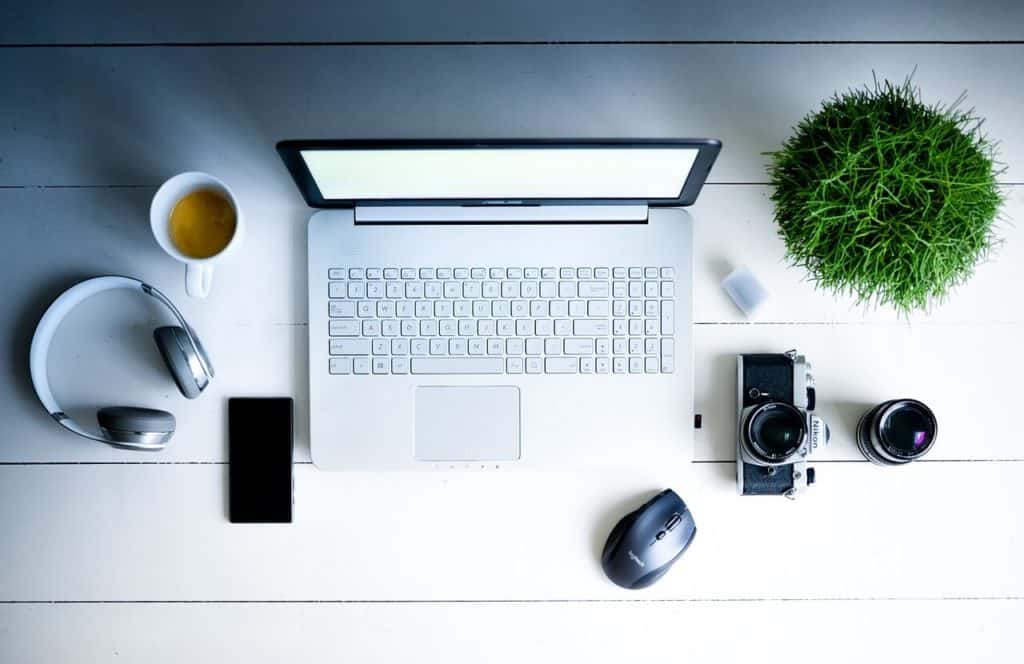 We use plenty of gadgets, electronics, tools and stationary in our office and we're incomplete without them. In case if you are planning to have your own office, make sure you check this list to get started.
Computers and Laptops
The essential and most important things in any office are computers and laptops. Depending on the style of work, you should opt for either laptops or computers. Since most of our team work remotely, we mostly prefer to have laptops connected to external monitors. We do also have a desktop for backup.
Apple MacBook Pro (2017)
Apple MacBook Pro (Mid 2012)
Samsung 15.6″ Laptop
Smartphones and Tablets
We review a lot of smartphones and also use them to test our Android apps. At Geek Dashboard, we write about both Android and iOS tutorials and these smartphones helps us to test the process before wrting the content and for grabbing the screenshots.
Since fragmentation is a major drawback in Android, we need smartphones from different manufacturers to test the apps we develop. Here is the list of smartphones and tablets our writers and developers are currently using at the office.
Electronics
Apart from laptops and smartphones, there are plenty of electronics every office should have. Here are the major electronics we use regularly in our office.
Samsung 390 Series Curved 27″ Full HD Monitor
Mitsubishi Split Air Conditioner
Water Dispenser with Refrigerator
Canon PIXMA MG3620 All-In-One Color Inkjet Printer with Scanner
Canon B/W Laser Printer
APC UPS Battery Backup & Surge Protector
D-Link AC1750 Gigabit Wi-Fi Router
Accessories
Smartphones and laptops are incomplete with accessories. The worst part of today's technology is, we need to buy a lot of accessories along with expensive smartphones and laptops.
For instance, the latest MacBooks need different accessories for connecting different devices. Most of the flagship devices these days come without a headphone jack and we need a 3.5mm to Type-C adapter for the same. Apart from this, we also need many optional Accessories to improve productivity.
Apple Magic Keyboard
Apple Magic Mouse
Logitech MX Master Wireless Mouse
Arteck 2.4G Ultra Slim  Wireless Keyboard
Lenovo Wireless Mouse
Apple AirPods with Wireless Charging Case
HyperDrive USB Hub
WD My Passport Portable External Hard Drive
Seagate Backup Plus Portable 4 TB
Power Banks
Cables and Adapters
Earphones and Headpones
USB Flash Drives
External CD Drive
Furniture and Stationary
Having correct posture while working is very important for both health and productivity. It depends on the chair, table height, foot rests, monitor arms and much more.
Monitor Arm
Chairs
Bean Bags and Foot Rest
Backpacks
Stationary
Last updated on