Microsoft Excel is primarily used for creating spreadsheets, reports, and many other things by students, employees, and organizations. We're humans, and we tend to forget things as well. So it isn't unusual that you want to recover unsaved Excel files on macOS.
While recovering unsaved spreadsheets is easy on Excel, things get a little tricky on macOS. This guide will show you several solutions to recover unsaved Excel files on macOS.
Lost and Found: Unsaved Excel Files Recovery Guide for macOS Users
You might have lost your Excel spreadsheet for many possible reasons — deleted by accident, unsaved Excel file, or anything.
Whatever your reason may be, there are various methods to restore an unsaved Excel file or spreadsheet.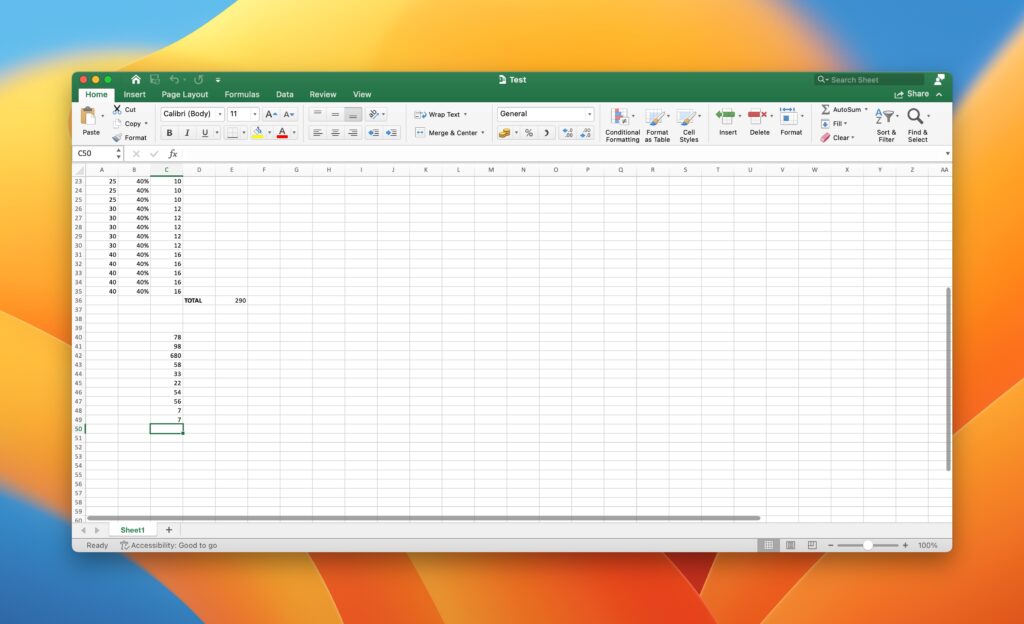 You will need a Microsoft Office 365 subscription or license to use Microsoft Excel on your Mac. If you don't have one, the below methods might not work for you.
1. Recover Excel Files using AutoRecovery
Microsoft Excel comes with a handy AutoRecovery feature on any given operating system including macOS. It helps you recover lost Excel files on Mac when your MacBook may run out of battery unexpectedly. When installing Office on macOS, the AutoRecovery option is enabled by default.
Generally, the AutoRecover option in Microsoft Excel saves your files at frequent intervals of 10 minutes; and you can also change the interval period to your preference.
However, when you manually save a file, Excel deletes the previously saved files in AutoRecover. In case, you didn't save your document, then you can use the AutoRecover feature to recover the spreadsheet on Excel.
Here is how you can leverage the AutoRecovery feature to restore unsaved Excel files on macOS.
Open the Finder app on your Mac.
From the menu bar, select Go and then choose Go to folder option. Alternatively, you can use the Command + Shift + G keyboard shortcut in the Finder to get to the "Go to folder" option.
Inside the dialog box, type the following path and replace <username> with your username on your Mac.
/Users/<username>/Library/Containers/com.microsoft.Excel/Data/Library
For example, if the username is "sajidshaik," the path would be /Users/sajidshaik/Library/Containers/Microsoft Excel/Data/Library

From the list of files, search for your AutoRecovered file, and open it using Microsoft Excel. You can make use of the last modified date and file name to figure out the file you need.

Select File from the Excel menu, and choose the Save As option to restore the saved version.
Microsoft Excel will recover your lost document, and you'll be able to edit your unsaved Excel file again. Nevertheless, there's no guarantee that Excel will recover the entire file since it depends on the last saved instance of your Excel spreadsheet. In general, you should be prepared to expect the loss of changes you made in the last 10 minutes.
2. Recover Unsaved Excel Files via Temporary Folder
macOS comes with a temporary folder and if you delete any file accidentally, you might find a copy there. If you look for an Excel file in the contents of the temporary folder, you might find your deleted file.
To access the contents of the temporary folder on macOS, follow the steps below.
Open the Terminal app on your Mac.
Type the following command in the Terminal app, and press the Enter key.
open $TMPDIR

From the opened Finder window, look for your deleted file. You can also try the search option to find the document's file name.

If you manage to find the file you need, copy it to your Desktop or any desired folder immediately.
If you don't find the file, don't worry, there are many other Temporary Folders on macOS that you should consider checking. Use the Finder's Go to location option and type the following paths to find the deleted files.
/tmp
~/Library/Caches/TemporaryItems
If you can't find it inside macOS's temporary folder, the above folders may also contain your deleted file.
3. Restore the Previous Version of Excel Spreadsheet
If you had the spreadsheet opened up and accidentally deleted any information in the file, you might restore an auto-saved version of the file. The process is easier compared when the above two methods.
Here's how you can browse the Version History of an Excel file and restore older changes quickly:
Open your Excel file and click on File in the menu bar.
Select Browse Version History from the sub-menu options. This will open a new panel that displays all previously saved versions.

Select the version that you wish to recover and click on the Open version to preview the older changes.

Click on the Restore button to overwrite the data or you can copy the contents from that version to use in elsewhere.

If the Excel application crashes or your Mac turns off due to a power outage or low battery, then the AutoRecovery option will work for you.
All you need to do is open the Excel application again, and the spreadsheet will automatically open with a previously saved version.
4. Recover Unsaved Excel Files from Time Machine Backup
Since 2008, every macOS device comes with the built-in backup tool — Time Machine. It creates incremental backups when you connect your backup disk. Follow the steps below to recover the Excel file from the Time Machine backup.
Connect your Time Machine backup disk to your Mac.
Open the folder where your deleted Excel file is located.
From the menu bar, select the Time Machine icon and choose the Enter Time Machine option.

Go back in time and locate the file that you want to recover using the timeline on the right edge of your display.

Select the file and click Restore to bring back the deleted file.
If you have regular Time Machine backups, then it should be your best option to store your deleted Excel files.
5. Recover Deleted Excel Files from Trash
In a few cases, you could have only deleted the Excel file from the folder but not from the Trash. If that's the case, you are in luck.
macOS doesn't permanently delete the files immediately when you Move to Trash. Unless you manually choose to empty the trash, your Excel documents will still be available in the Trash.
Follow the steps below to recover deleted Excel files from Trash on your Mac:
Click on the Trash icon on your Dock to open Trash. Alternatively, you can also launch the Trash app from Spotlight search.

Locate and right-click on the deleted file.
From the list of options, click on Put Back.

Doing this will restore the deleted Excel document to its original location. Now navigate to the location where you actually saved your Excel spreadsheet before deleting it.
Warning: The options Put Back, Delete Immediately, and Empty Trash are very close to each other. Make sure you didn't choose the wrong option accidentally.
6. Use 3rd Party Data Recovery Tools to Recover Unsaved Excel File
There are plenty of Data Recovery tools available in the market today. Many of these tools might be able to recover deleted Excel files without any possible data loss; however, it is not 100% guaranteed.
One such Data Recovery Software that we could recommend is Stellar Data Recovery. When it comes to macOS, it is one of the best recovery tools that you can possibly find. However, as mentioned previously, it is not 100% sure that these tools will find the deleted files.
As the files go through multiple extensions, many different processes can possibly corrupt the file, especially if it's big in terms of size. So better not keep your hopes high.
Avoid Losing your Excel Files Again!
We hope you were able to recover your deleted Excel files using the above methods. You should immediately make the following changes on your machine to protect yourself against accidental data loss.
You should regularly save your open files with the shortcut Ctrl + S, which will keep your data safe and updated, primarily when preparing an Excel spreadsheet.
If any solutions in this list work for you to recover unsaved Excel files, or you've any queries or suggestions regarding this, let us know in the comments below.